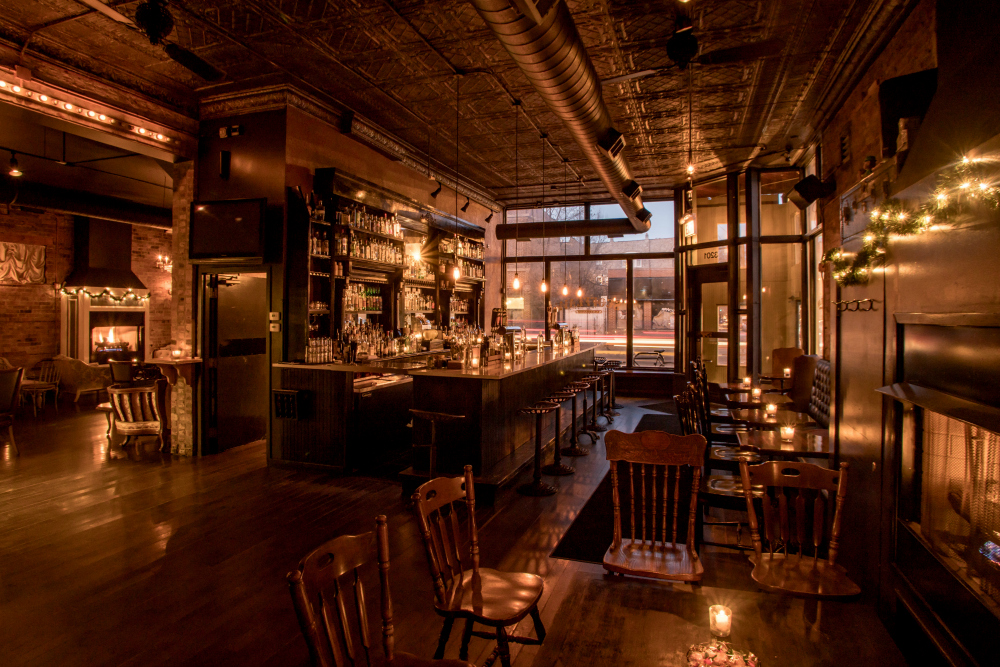 Photo: Jude Goergen
As we enter the final stretch of another Chicago winter, summer days still seem like a distant dream. It will be several months before we can once again swim in Lake Michigan, purchase paletas any time of day, or go to free films in Millennium Park. Who can help but be tempted by the safety of home and Netflix? But there too lies a wintry danger: Cabin Fever. With another month (at least) of snow and slush and cold winds, we at KOVAL decided we needed to find a way to get ourselves out of the house without risking exposure. What you might not know about KOVAL, though, is that we love books. A good book from a unique and beautiful library? We're there! What's more, we love a good book while sipping KOVAL spirits at warm, toasty bars … with fireplaces. Follow along as we explore the city's libraries and nearby cozy warm up spots.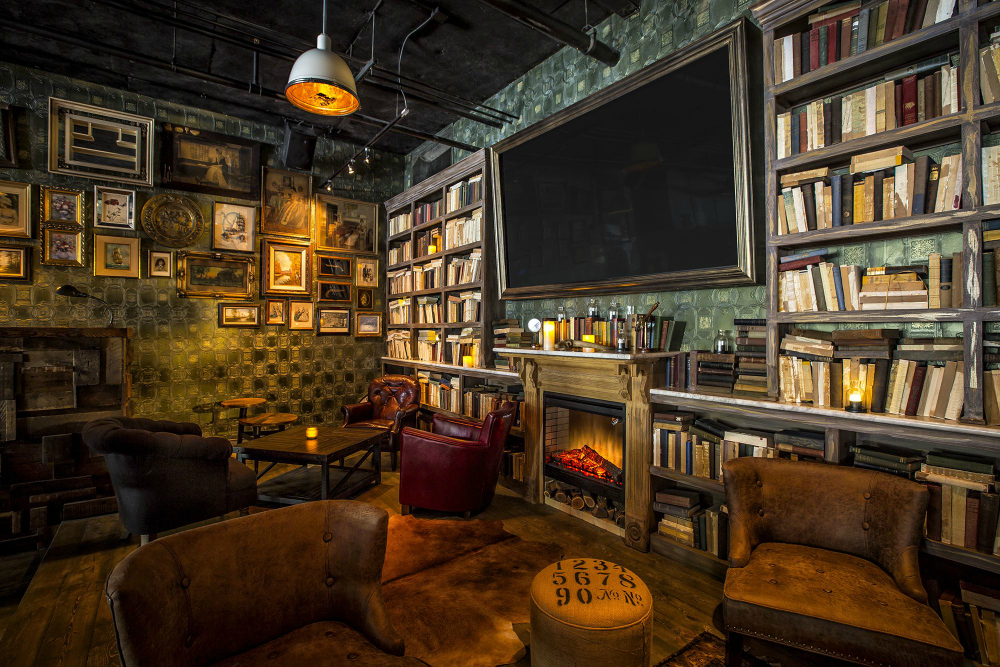 Photo: Marcin Cymmer
1. The first stop is both a bar and a library of sorts: Whiskey Thief Tavern in Evanston. This expansive yet cozy whiskey bar doubles with its own collection of vintage books, curated by the owners. Take a seat by their elegant fireplace, pick a book to peruse, and order some of KOVAL's unique Oat whiskey or Four Grain whiskey. As one of the only distilleries making a single grain Oat whiskey, and one of the few using Oat grain in our Four Grain whiskey, we recommend ordering a little of each for comparison. Learning comes from books and from hand-on experimentation. Fun Fact: The tavern's name comes from the name for a tool that distillers use to sample aging spirits from the barrel. 
2. Moving south into the city, a library that stands out near to KOVAL distillery is Sulzer Regional Library, one of a few Chicago Public Libraries (CPL) that we're happy to feature among some of city's most beautiful libraries. Named for the Swiss immigrant, Conrad Sulzer, who settled in Chicago in 1836, the Sulzer library always has fun events worth leaving home to attend. Better yet, however, Sulzer hosts a book club at The Grafton Pub (on the couches right by the fireplace), "YA Lit for Adults." Check out their list of upcoming books and book it to the Grafton with your new favorite Young Adult fiction novel. While you're there, get some KOVAL Bourbon. Between the glass and the fireplace, you'll be warmer than you would have been at home.
3. Technically, the International Museum of Surgical Science is not a library. But as North America's sole museum devoted to surgery, IMSS features a beautiful collection of rare books, archived for use by students and scholars conducting research. The archives aren't open to the public without "a highly articulated research focus," but take a peek in at the historically accurate room (with a gorgeous fireplace) on your way to their current exhibition, Re-Stitched and Re-Touched: Materializing the Medical Data Body. Consider going to the exhibit's artist talk on February 20th. From there, you can walk up through Lincoln Park to North Pond. This superb restaurant emphasizes supporting small local farmers and sustainable cuisine. As a craft distillery making organic spirits since 2008, KOVAL is a big fan. After your nature walk, you can warm up by North Pond's fireplace with a spicy glass of KOVAL Rye whiskey (on its own or in a Manhattan).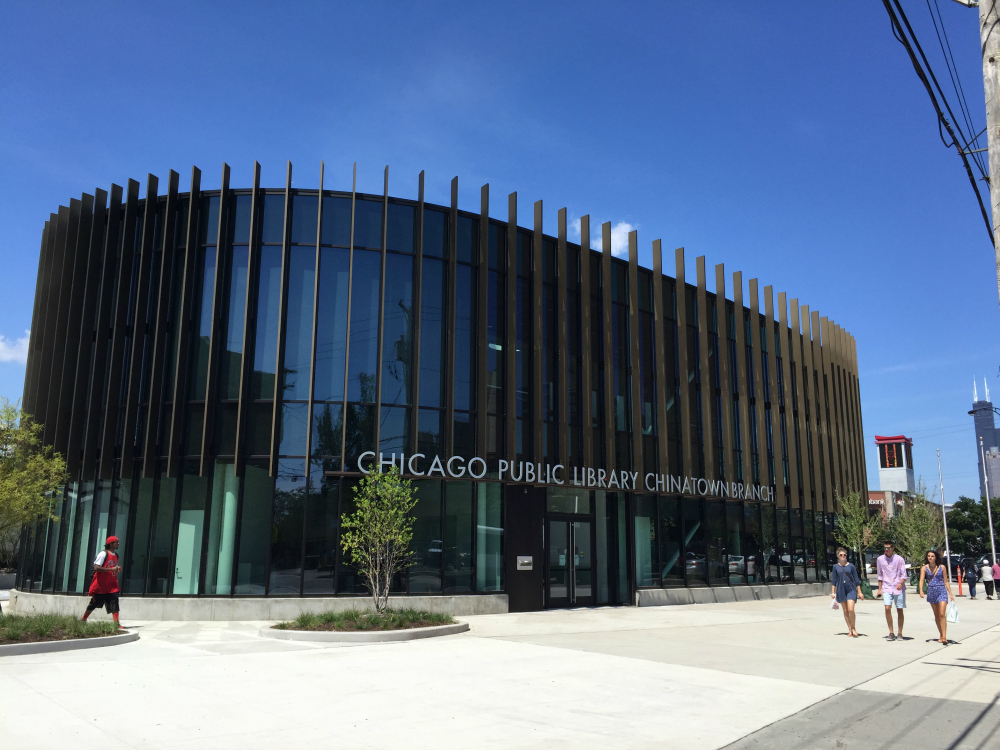 Photo: Chicago Public Libraries  
4. An absolute must on KOVAL's winter warm-up list is the Chinatown branch of CPL. Located absurdly close to the Red Line Cermak stop, this building was opened in 2015 with a living roof. If their collection of books and art isn't enough to tempt you, consider attending their Saturday morning Tai Chi classes for beginners. After a morning of perusing the books and learning about an ancient practice, head toward the Peninsula Hotel in Streeterville. The Peninsula offers richly inspiring dining environments from The Bar to The Lobby to their Shanghai Terrace. The latter was voted the number one "Chinese Restaurant in Chicago" by Zagat Survey in the midst of 1930s supper club décor. What's more, the Shanghai Terrace carries some of KOVAL's more esoteric products: our Ginger liqueur and our Honey Chrysanthemum liqueur. Like our harder spirits, each of these liqueurs are certified organic. They fit in perfectly at the Peninsula's aesthetic. Order the Chrysanthemum from the Terrace's cocktail menu for a perfect pairing with their Cantonese delicacies, too. We won't hold it against you if you stop by The Bar before you leave to enjoy the fireplace after dinner.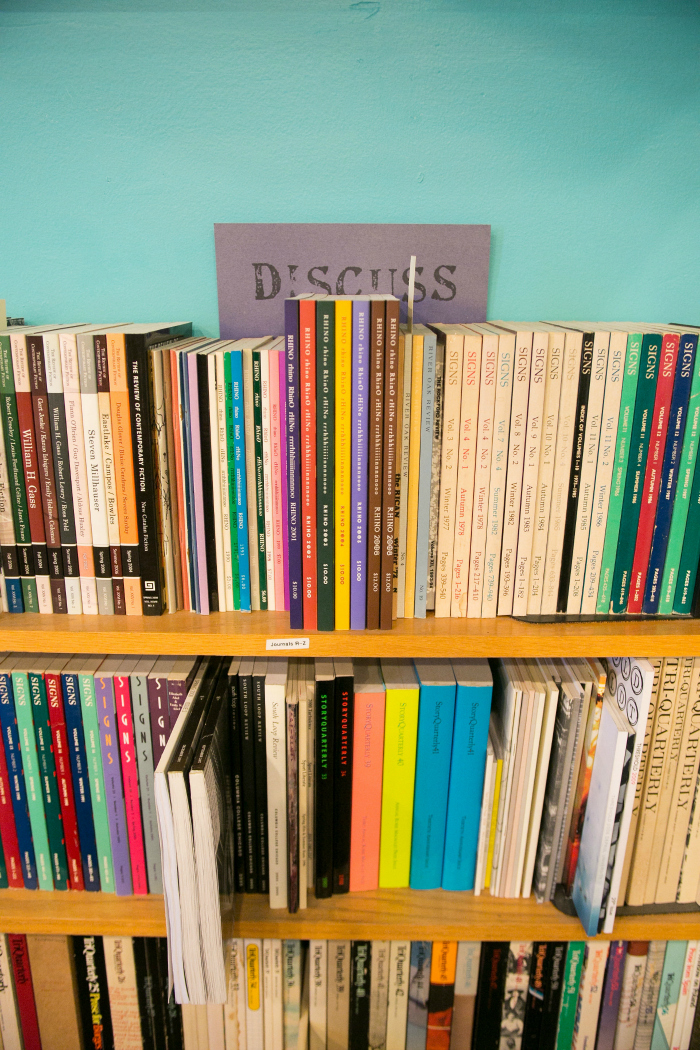 Photo: Kristan Lieb
5. Next we have a Chicago classic: The Read/Write Library. If there is one library designed by and for Chicagoans, this would be it. The Read/Write Library started in 2006 with the mission to collect and preserve media created by Chicagoans from every walk of life for Chicagoans to have access to our shared community history. Every weekend (or by appointment), the vast and diverse catalog becomes available to the public. One of their most recent projects, a monthly book club called Hungry for Stories, focuses on contemporary Chicago perspectives and personal stories as a form of history.
From there, go north on California passed Humboldt Park, make a left at Armitage, and find yourself at Scofflaw. Named for the Prohibition-era gin cocktail named (tongue-in-cheek) for macho booze runners, Scofflaw regularly rotates their always satisfying menu. Once you arrive, get a seat behind the bar by the roaring fire, snuggle in to the beautiful classic furniture, and open a book of your choice (such as the book of the month from "Hungry for Stories, or Jack Kerouac's On The Road). As a gin-focused bar, ordering a classic KOVAL Dry Gin cocktail—from their new Ruby Thief to a simple G&T—is about as good as it gets.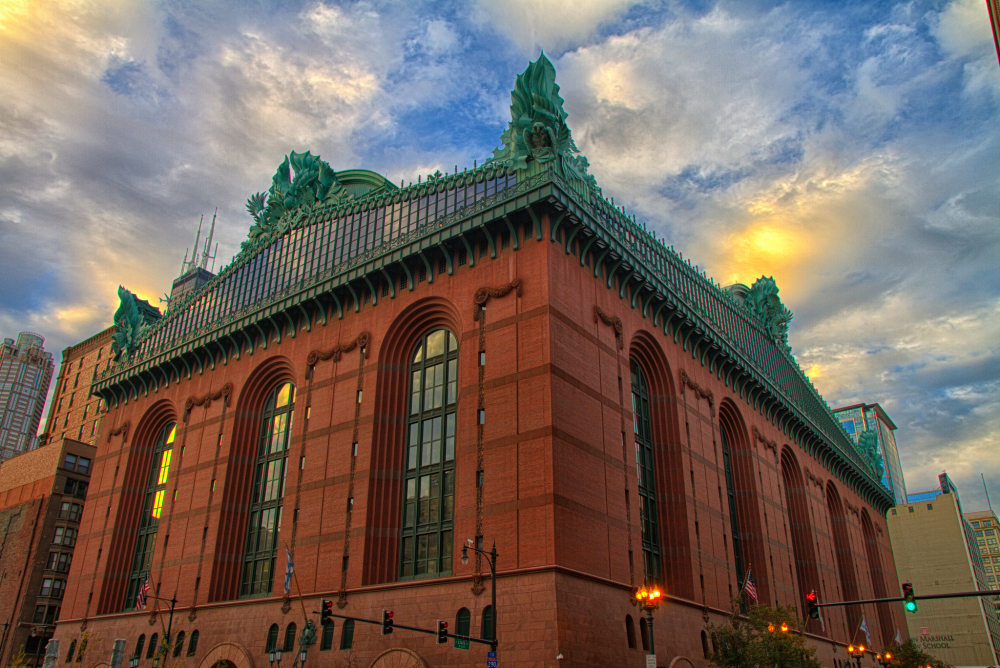 Photo: Patrick Emerson, via Flickr
6. The bold and beautiful Harold Washington Library (CPL) of the South Loop brings a level of grandeur and grace to the city that exhibits a quintessentially Chicagoan aesthetics. Entering the building alone inspires wonder. The façade of the library carries mammoth owls around the top of the building, clutching papers and books, ranging from 12 to 20 feet in height. Of course, the exterior of this Chicago public library isn't the only bearer of beautiful art. During the month of February, the library named for Chicago's late Mayor will be hosting multiple art exhibits to celebrate African American History Month ranging from photography of Michelle Obama by Amanda Lucidon to Terri Mae Owens' Gullah Dolls.
Little else goes together like barbecue and Bourbon, and if we can make a great Bourbon in Chicago, we know for a fact that Chicagoans can make great barbecue here, too. So, hop on the El Red Line from Jackson to Clark/Division. A favorite spot of ours for barbecue, Chicago Q, offers rich menus any time of day, complete with a warm, casual environment. Like Chicago Q, our KOVAL Bourbon is relaxed yet complex, offering a unique mashbill that allows for easy sipping and relaxation, no matter how strange the weather is outside.