A Spirited Valentine's Day Gift Guide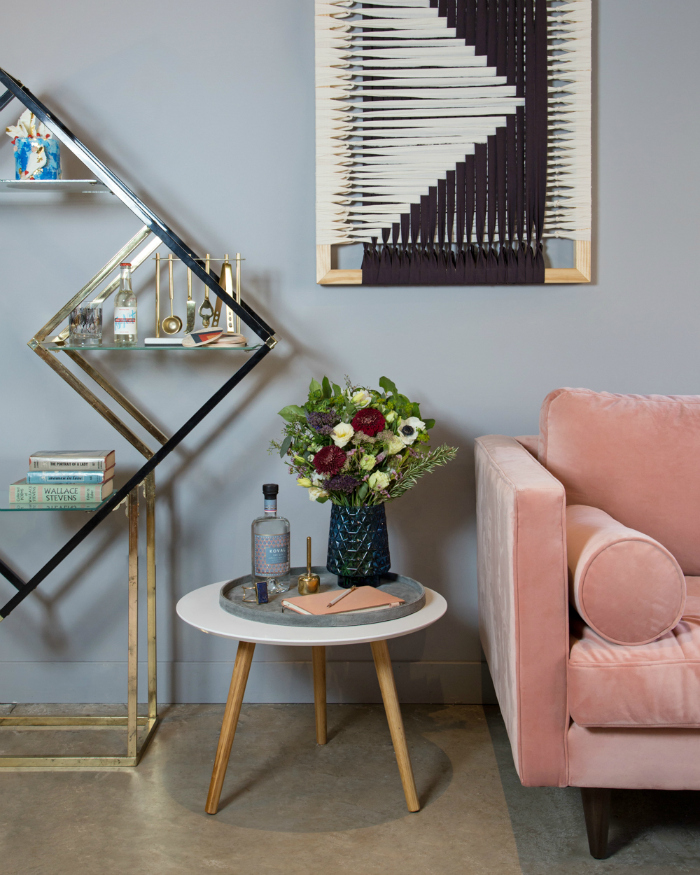 As Valentine's Day approaches, the search is on for the perfect gift for that special someone. To help in the quest, we've curated two gift guides inspired by two very distinct personalities - our KOVAL Bourbon and Dry Gin. In doing so, we collaborated with other makers and companies we admire, many of whom are neighbor businesses in our hometown of Chicago. Cheers to perfect pairings and giving with love. 
KOVAL Dry Gin Loves...
Our Dry Gin is made with a unique variety of woodland spices. Juniper and wildflowers envelop the nose, while the taste is dry, yet vibrant - clean and nuanced by emerald grasses, golden citrus, and white pepper with a round, floral body. Crisp enough to enjoy straight and of course excellent in cocktails both classic and contemporary. This collection is inspired by the gin's sophisticated flavor and beautifully intricate bottle design.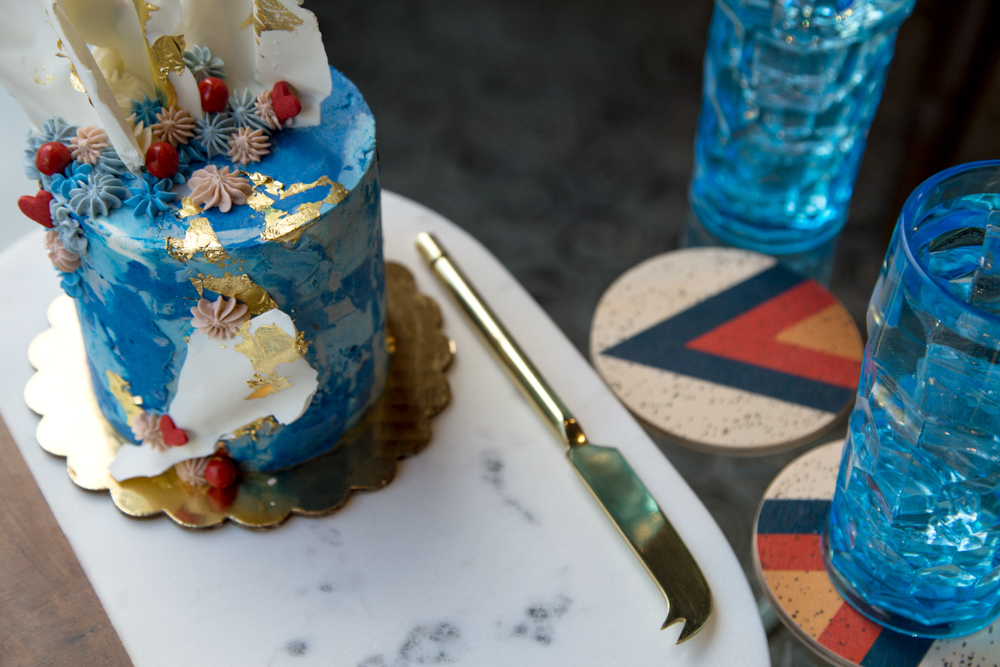 Bon Vivant Cakes 
The artful, over-the-top designs of Chicago's Bon Vivant Cakes are guaranteed to make you smile with delight – immediately followed by oohing and ahhing at the inventive, delicious flavors. Customizable orders range from mini cakes for 2-4 to tiered cakes for large groups, as well as the prettiest cookie dough pops, cone cakes and donuts you'll ever see. This gorgeous custom cake was designed to accentuate our KOVAL Dry Gin bottle, and we're beyond smitten. Be sure to check out the Valentine's Day mini cake with alternating layers of chocolate fudge cake and red velvet cake with strawberry preserves and boozy strawberry buttercream. 
"Arrowhead" Coasters - Tramake
Chicago-based Tramake is designed for the modern home. With a belief that great design should be accessible without compromising on quality or inspiration. Their passions for color, print making, and art history combine to make home decor products that are colorful and graphic with a playful sense of historical design while remaining truly modern and always moving forward. These Tramake "Arrowhead" coasters have a triangle design in blue, red-orange and vintage orange with an all-over speckle print for a fun take on Scandinavian Modern style.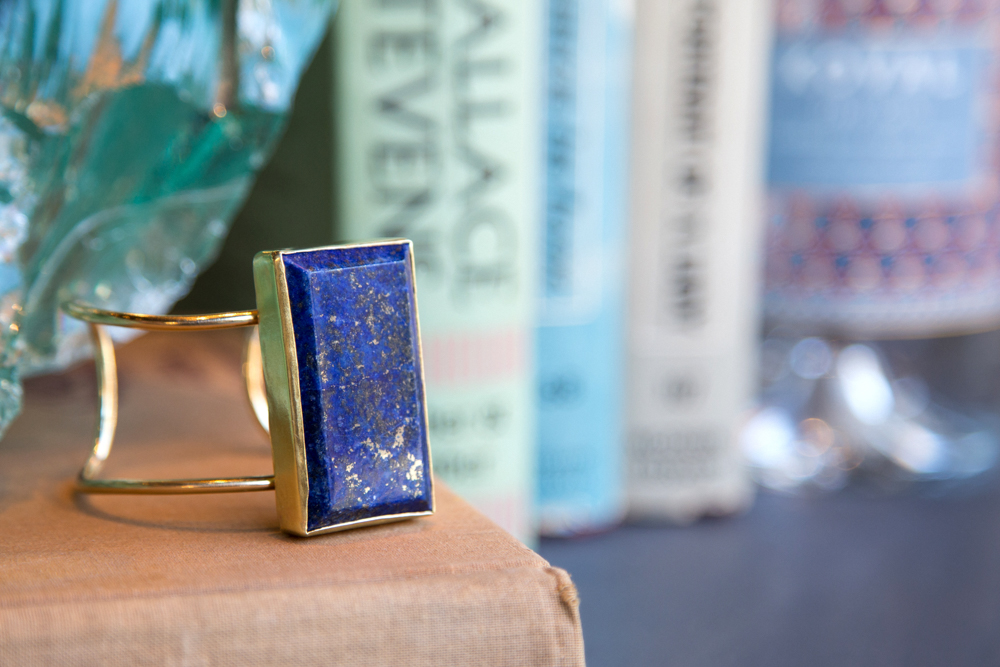 Lapis Lazuli Rectangle Cuff - Mineralogy
When we began assembling a collection of items for this Dry Gin-inspired guide, we knew our neighbors at Mineralogy had to be in the mix. Inspired by an earth science class lecture on minerals, the collection includes unique, limited edition mineral jewelry and natural diamond engagement rings. This stunning cuff features a deep blue rectangle lapis lazuli stone, resting beautifully on a double band brass cuff.   
Vintage Books - The Dial Bookshop
Located in The Fine Arts Building on Chicago's Michigan Avenue, this beautiful bookshop draws on rich historical inspiration, starting with The Dial literary magazine, founded in 1840. Until 1844, it was a transcendentalist journal. Margaret Fuller served as its editor and its most notable contributor was Ralph Waldo Emerson. In 1880, Francis Fisher Brown revived the magazine in The Fine Arts Building, with a focus on politics and literary criticism. In 1908, Francis Fisher Brown opened Browne's Bookstore on the seventh floor of the Fine Arts Building. The space was designed and outfitted by his friend Frank Lloyd Wright, who kept an office in the building. Margaret Anderson, who worked for The Dial during the Francis Fisher Browne period, founded her modernist literary magazine, The Little Review, in the Fine Arts Building in 1914. Her magazine is perhaps best known for serializing James Joyce's Ulysses.
Today, you'll find a mix of used, new and antiquarian books at The Dial Bookshop as it continues this storied literary tradition. You're sure to find a special Valentine's Day gift for the book lover in your life. 
Deco Barware Collection - West Elm
Bring back the glamour of 1950s cocktail hour with West Elm's marble and brass Deco Barware Collection. The brass-finished tools come with a solid marble base for an elegant look. We can't wait to mix our next batch of KOVAL cocktails with this beautiful set. West Elm makes all its products with one goal in mind: to help customers express their personal style at home and in the world. Cheers to that!  
Indian Tonic – Top Note
Milwaukee-based Top Note likes to call their Indian Tonic "the IPA of tonic water." Citrus top notes of grapefruit peel and kaffir lime make it a perfect pair for KOVAL Dry Gin. It's part of Top Note's collection of American Craft Mixers, including Bitter Lemon and Ginger Beer.  
Flowers for Dreams 
It wouldn't be Valentine's Day without a beautiful bouquet, and when you order one from Flowers for Dreams, you help a worthy cause at the same time. Every purchase benefits a local charity, and the company has contributed to more than $260,000. Everything is sourced, designed, and hand delivered by the company to ensure unprecedented levels of quality control. Bouquets come wrapped in recyclable cloth and vases range from reclaimed wood to vintage tins.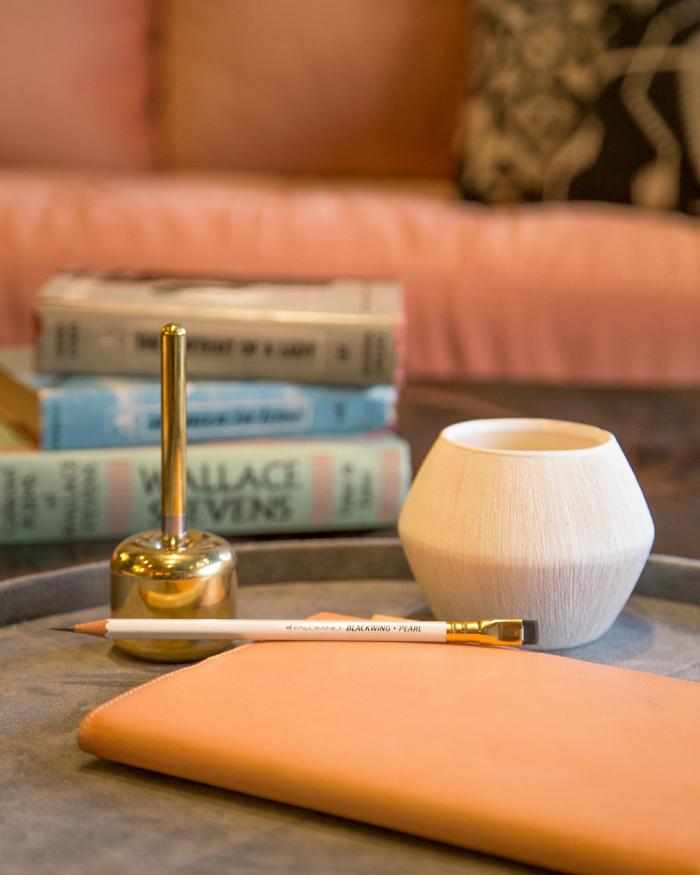 Brass Pen and Container with Goat Leather Journal - Martha Mae 
If your Valentine would prefer a bouquet of beautifully made pencils to flowers, we recommend a visit to Martha Mae – a thoughtfully curated shop of beautiful items in Chicago's Andersonville neighborhood. Here, we've paired the brass Gemini Pen and Container from Chen & Kai with our Dry Gin, along with the Palomino Blackwing Pearl Pencil and Midori MD Notebook and Goat Leather Cover.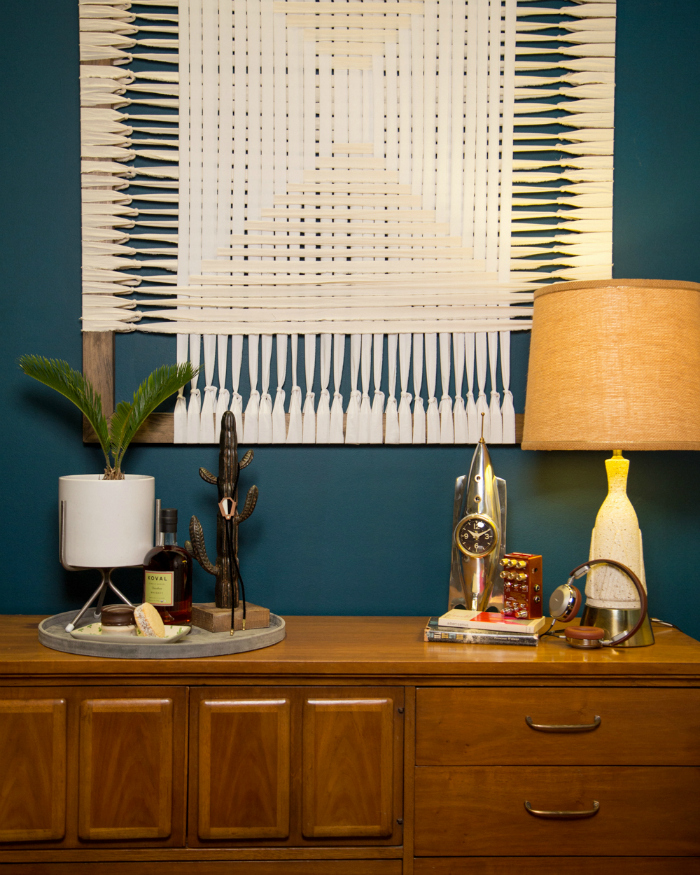 KOVAL Bourbon Loves...
Our organic, single barrel bourbon has the requisite mash bill of at least 51% corn, but instead of the usual rye or wheat supplement, we incorporate one of the main cereals of Asia and Africa. Millet is a gluten-free ancient sustenance grain, and like corn, has a history of working in the spirits industry, albeit in Nepal, where it has long been celebrated as a libation of choice. This collection takes inspiration from the Bourbon's unique flavor profile and style. Tucked away in a charred new American oak barrel to age, millet and corn learn to complement each other, neither taking the lead. Out of the bottle, this duet opens with notes of mango chutney, while the millet renders a soft whisper of vanilla throughout. Then harmonizing, the grains sing with the sweetness of apricot custard. This pair finishes with peppery caramel, a diminuendo into a wisp of clove-spiked tobacco lingering on the tongue.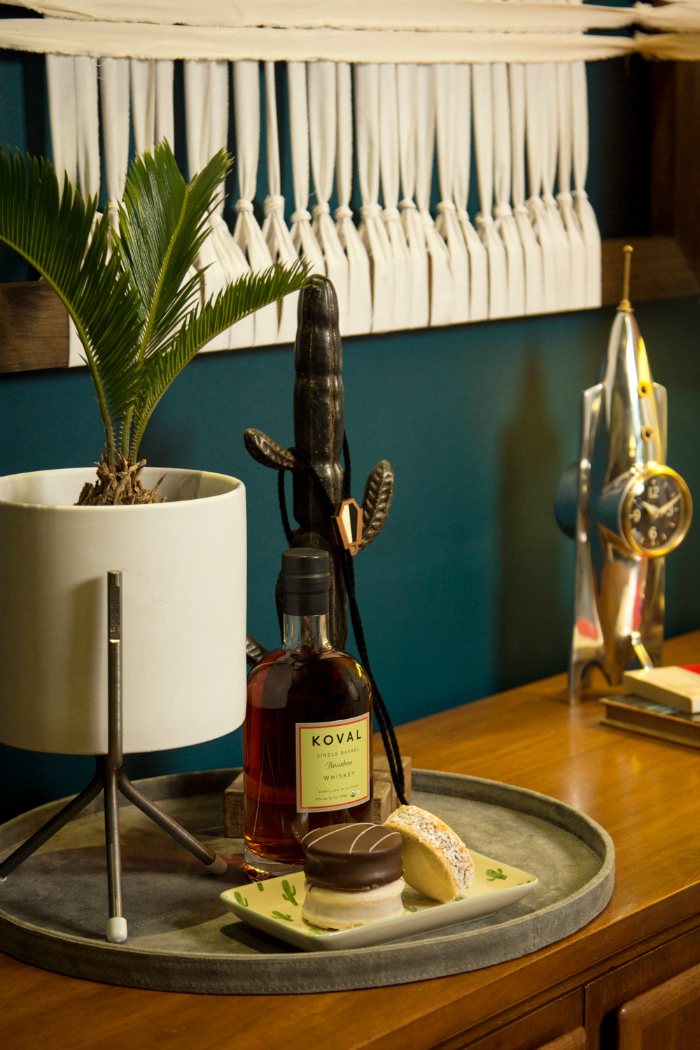 Tripod Planter - District
Our neighbors at District have a passion for thoughtfully refurbished vintage furniture, well-designed original pieces and playful home accents. They launched a line or original Tripod Planters last year, available in three sizes, a choice of black or white pots, and stainless steel or solid brass tripods. All designed by District owner Chris Murphy and manufactured locally.

*District also graciously hosted our Valentine's Day gift guide photo shoot. Additional pieces featured in the photos are available in their shop (original furniture pieces subject to availability).  
Lucila's Homemade Alfajores
Lucila's Homemade was founded out of a desire to bring America the treats Lucila grew up with in Argentina. The company specializes in "alfajores" (pronounced al-fa-hor-es). Alfajores are pastries consisting of two soft and crumbly cookies sandwiched with a thick layer of "dulce de leche"(creamy caramel). Lucila's alfajores are handcrafted using unique artisanal techniques. Each cookie starts with the simple ingredients of cornstarch, flour, sugar, eggs and butter, and pairs beautifully with our KOVAL Bourbon.
Leather Backpack and Deco Bolo Tie - Milk Handmade
This minimal Neva Opet leather backpack from Milk Homemade is the perfect choice for toting our favorite essentials and will age beautifully with time and wear. We also love a good statement piece, like the Deco Bolo Tie. Like our KOVAL Bourbon Whiskey, it's wonderfully versatile. Weart it low like a necklace on a cozy t-shirt or sweater or up as a traditional tie on a button-down.
Spaceship Clock - Cowboys and Astronauts
Cowboys and Astronauts, Chicago's newest men's lifestyle and supplies destination recently opened shop in the heart of Andersonville. We've become fast fans of their selection of high-quality menswear and unique, often-lighthearted home goods. This beautifully designed metal spaceship clock makes a unique and playful home accent.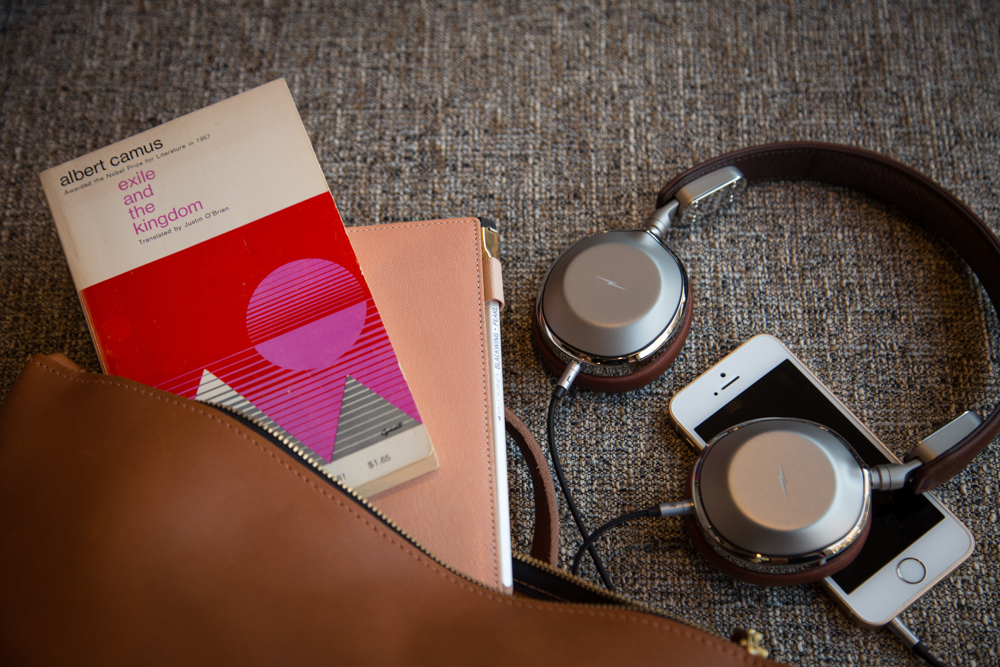 The Canfield Over-Ear Headphones - Shinola 
These headphones from Detroit-based Shinola produce a sound so clean it allows anyone to experience music the way it should be — masterfully produced. Perfect for listening to your favorite music while enjoying the bright, pure expression of KOVAL's heart-cut Bourbon whiskey. From the stainless steel components, and the integrated padding in the headband, to the interchangeable memory foam lambskin ear pads, The Canfield Over-Ear Headphones are a revelation in listening.
Vintage Books - Pilsen Community Books 
Pilsen Community Books is more than a bookstore. In addition to selling new and used books the shop is dedicated to helping schools and promoting student literacy in Chicago's Pilsen neighborhood through its Pilsen Reads! book giveaway program. To date, they have donated 1,771 books to 28 local classrooms. The shop is also a simply blissful spot to spend an afternoon.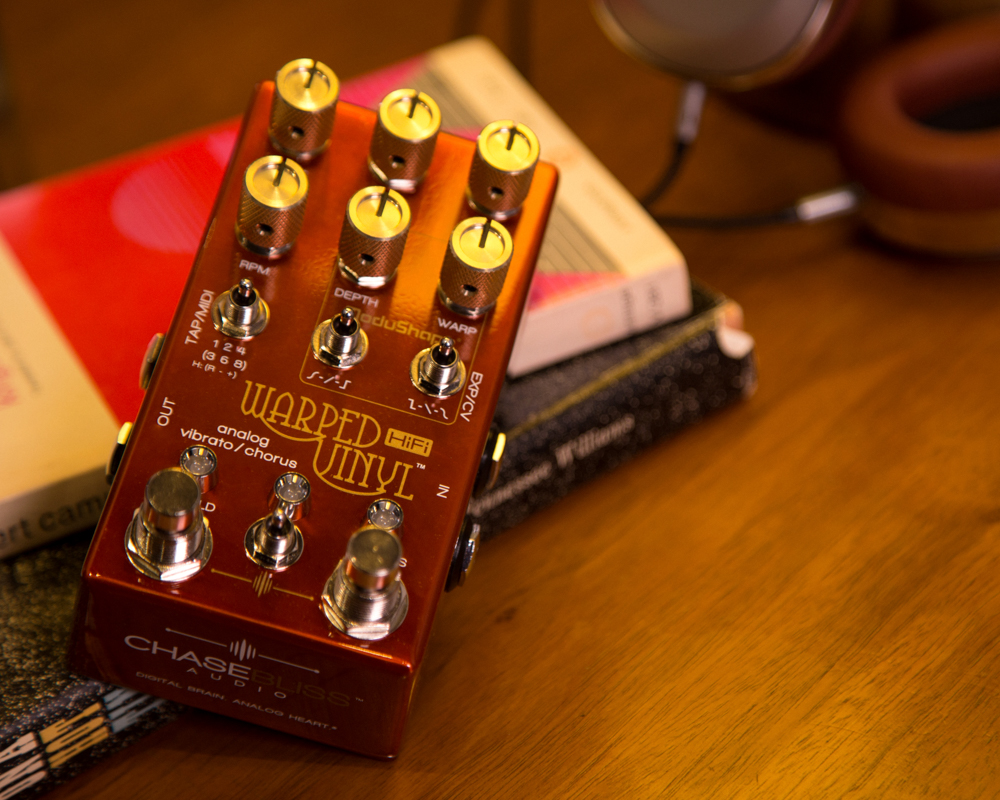 Warped Vinyl HiFi - Chase Bliss Audio
Minneapolis-based Chase Bliss Audio originally conceived this Warped Vinyl HiFi to simulate the effect of a warped vinyl record, but that only scratches the surface of what the pedal can do. This "true pitch" analog vibrato/chorus pedal features an all-analog signal path that can be dialed in to create limitless palette of vibrato and chorus. It's an approach we appreciate here at KOVAL, where we seek to create the purest, brightest expressions in our grain-to-bottle spirits.
BONUS: In the spirit of Valentine's Day and supporting our neighbors, KOVAL is participating in With Love from Andersonville. On Saturday, February 10, we will donate proceeds from our tours to Swedish Covenant Hospital. Sign up for a tour today!