Bourbon Chocolate Crinkles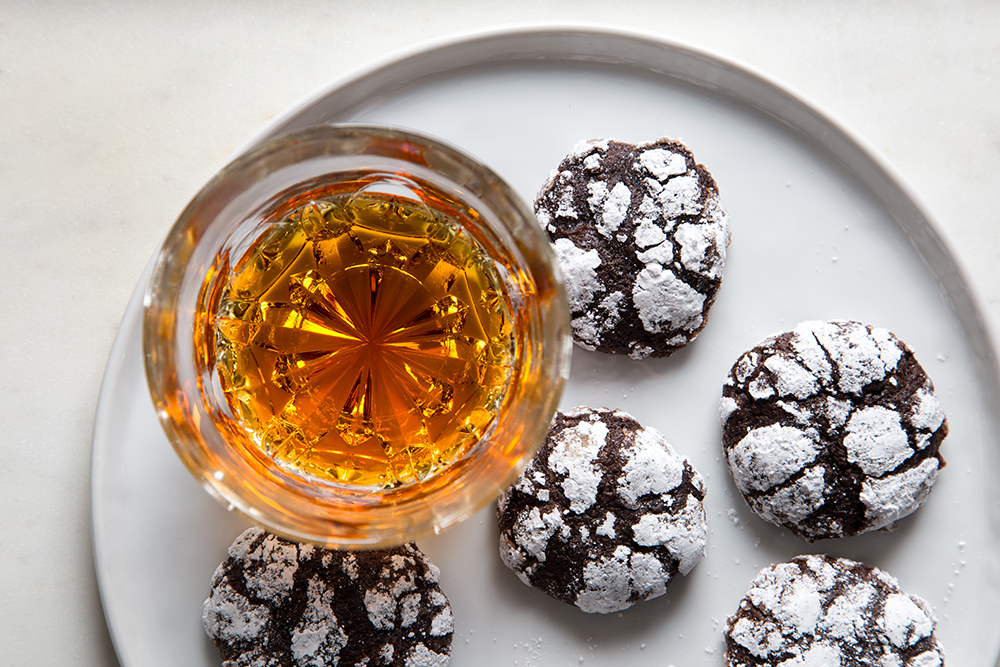 This boozy take on a classic holiday cookie packs an intense flavor punch with a combination of chocolate, cocoa powder, cinnamon, KOVAL Bourbon and chocolate bitters. We love them warm from the oven, at room temperature or even right out of the freezer for a rich, fudgy texture.
Any way you serve them, these cookies make a great pair for your favorite KOVAL Bourbon drink. Cheers!
Bourbon Chocolate Crinkle Cookies
Ingredients:
• 4 ounces unsweetened chocolate, chopped
• ½ cup (1 stick butter)
• 1 cup flour
• ½ cup unsweetened cocoa powder
• 1 teaspoon baking powder
• ¼ teaspoon baking soda
• ½ teaspoon salt
• ½ teaspoon cinnamon
• 1½ cups brown sugar
• 3 eggs
• 3 tablespoons KOVAL Bourbon
• 4-5 dashes chocolate bitters
• ½ cup granulated sugar
• ½ cup powdered sugar
Directions:
In microwave-safe bowl, combine chocolate and butter. Heat in 30-second increments, mixing in between, until completely melted. Set aside.
In medium bowl, whisk together flour, cocoa powder, baking powder, baking soda, salt and cinnamon.
In separate bowl, combine brown sugar, eggs, Bourbon and bitters. Add chocolate and butter mixture slowly, whisking constantly. Gradually add flour mixture to wet ingredients, mixing until just combined. Cover and refrigerate at least 1 hour.
Heat oven to 325F/165C. Line 2 baking sheets with parchment paper. Place granulated sugar and powdered sugar in separate bowls. Scoop dough out in 2 tablespoon-size pieces and quickly roll into ball. Roll in granulated sugar and then powdered sugar; place on baking sheets 2 inches apart. Bake 10 minutes.
Serve immediately or cover and store at room temperature for up to 5 days or freeze up to 1 month.