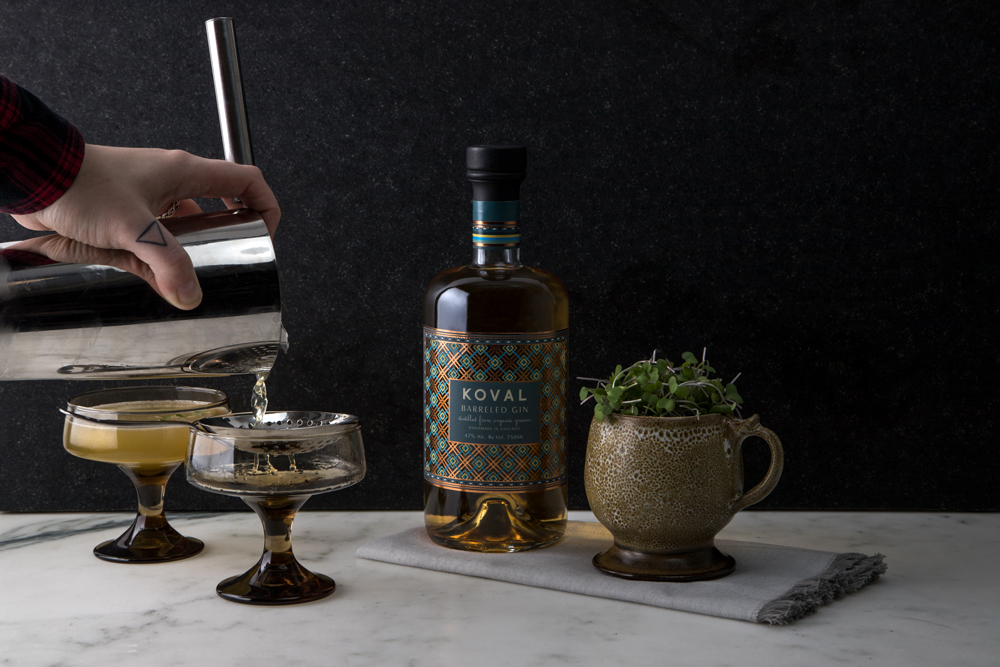 Making beautiful, handcrafted products is never easy, but the end results are always worth the time and effort. Here at KOVAL, we love partnering with other makers and innovators who share our commitment to excellence. That's why when we set out to create a collection of tea cocktails, our first call was to our friends at Spirit Tea, a Chicago company dedicated to sourcing an uncommon selection of handmade teas. They've brought together a group of industry veterans with decades of combined experience in tea, coffee, hospitality in herbalism, working together under the belief that "a great cup is the result of passion and strong relationships." We couldn't agree more.
Spirit Teas are truly special and wonderful to sip – all seasonally curated selections that feature no fruits, flowers, flavorings or sweeteners – just the natural beauty of the tea plant.
Here at KOVAL, we are dedicated to creating the purest, brightest expressions in all of our spirits, through our grain-to-bottle method, using only the heart cut of the distillate. It's not the easiest or fastest approach, but the benefits are evident in every sip.
Creating these collaborative cocktails was a labor of love all its own, taking great care to highlight the unique characteristics of the spirits and the delicate, nuanced flavors of the teas. The results are nothing short of fabulous. 
To complete this beautiful collaboration, we worked with Penguin Foot Pottery, a Chicago ceramics studio, to create four unique pieces that complement each of the cocktails.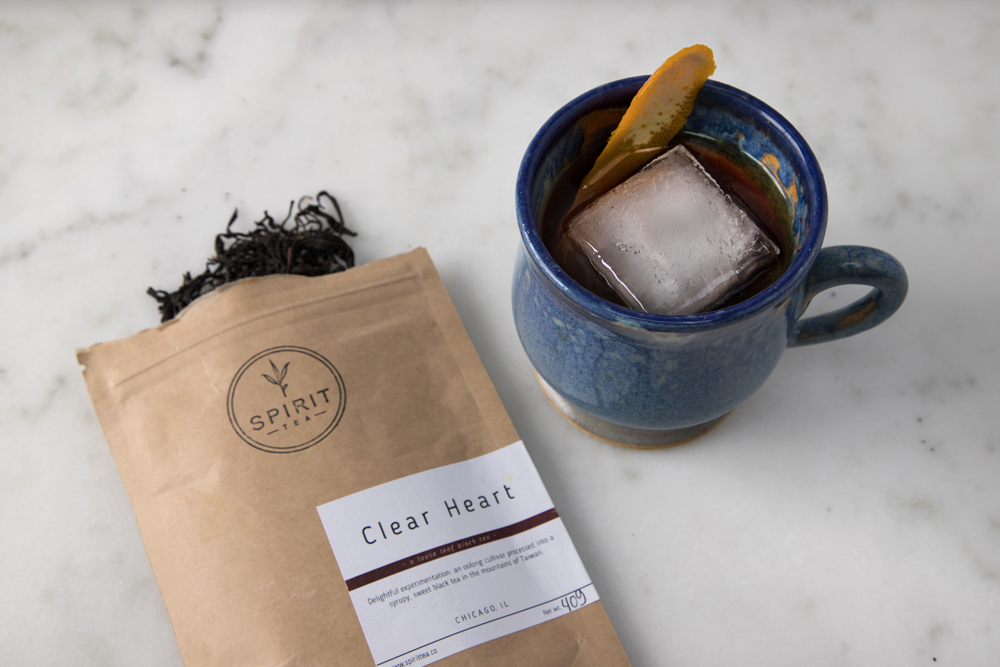 Old Sweet Heart
An Old Fashioned style cocktail using Spirit Tea's Clear Heart oolong cultivar processed as black tea, along with KOVAL Bourbon Whiskey, distinctive for its corn and millet mash bill, notes of mango chutney and vanilla.
2 oz KOVAL Bourbon
½ oz SPIRIT TEA Clear Heart Syrup (recipe below)
3-5 dashes aromatic bitters 
Stir ingredients with ice. Strain into rocks glass over king ice cube. Garnish with orange peel.
Clear Heart Syrup:
1 cup water
30 grans Spirit Tea Clear Heart tea leaves
1 cup sugar
 Bring water to boil. Add Clear Heart tea leaves, allow to simmer. While the tea simmers, stir in sugar. Once sugar has dissolved into the water, remove from heat. Strain into heatproof container and cool. 
Makes 1.25 cups syrup.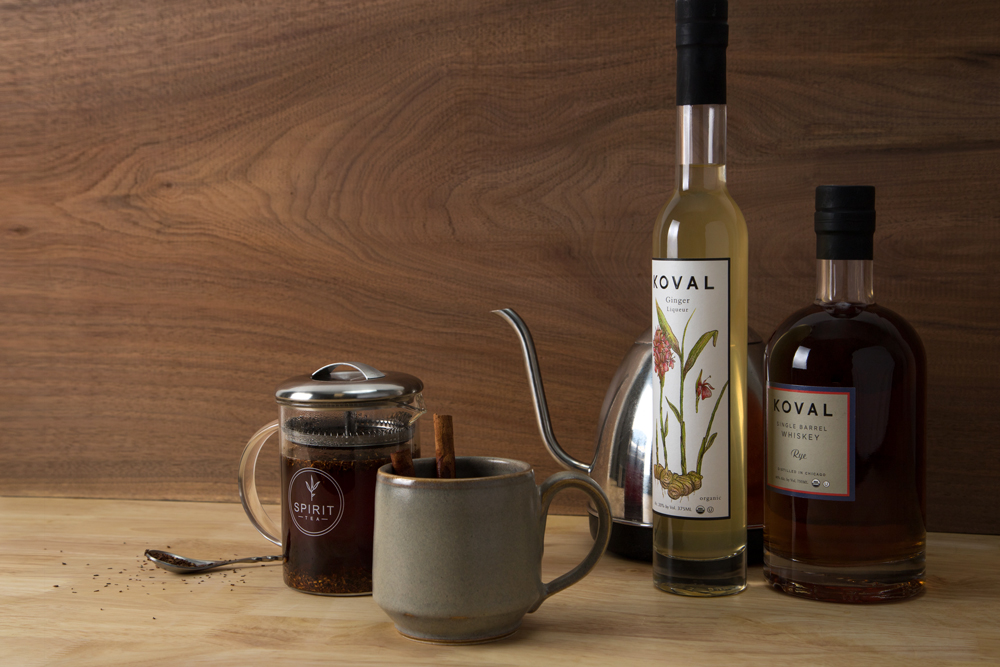 Rye Chai
Spirit Tea's Red Chai is rooibos based with strong peppercorn notes and a touch of sweetness, a perfect match to KOVAL Rye Whiskey's natural spice flavor profile.
 5g Spirit Tea Red Chai (340ml water), brewed
1 oz KOVAL Rye
½ oz KOVAL Ginger Liqueur
Cinnamon stick, for garnish 
Brew Spirit Tea Red Chai (205°F for 5 minutes.)
 Combine KOVAL Rye Whiskey with KOVAL Ginger Liqueur in heatproof mug. Once tea is ready, pour into mug and stir. Garnish with cinnamon stick.
 Note: Add a splash of heavy cream for a creamy chai-latte inspired variation!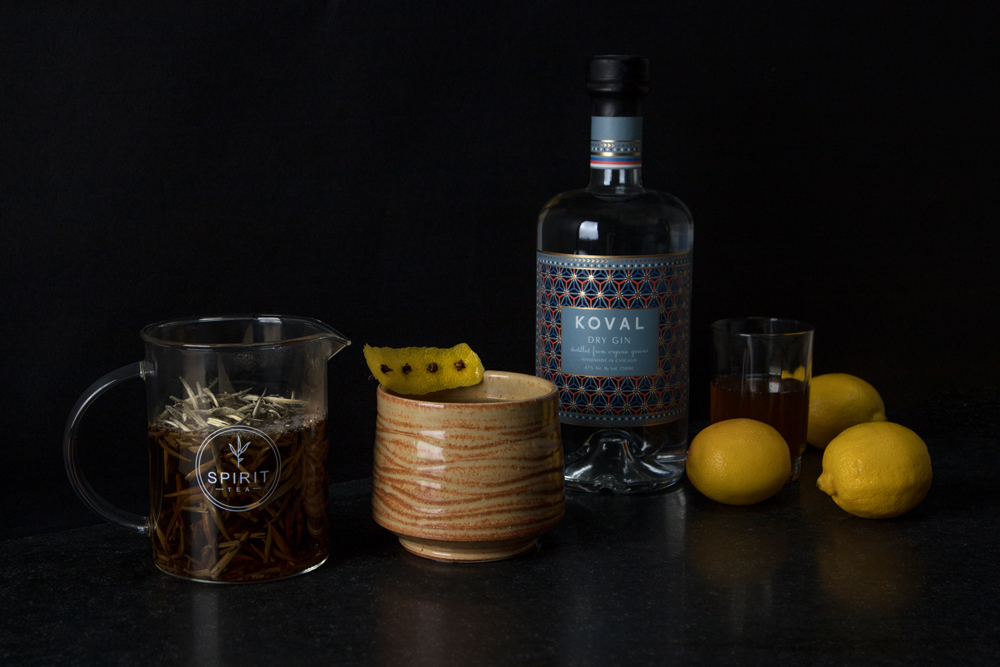 G&T & Tea
Spirit Tea's Silver Needle white tea is fruity and spicy, an easygoing pair to KOVAL's brightly aromatic Dry Gin.
 5g Spirit Tea Silver Needle (340ml water), brewed
1 oz KOVAL Dry Gin
¾ oz strained lemon juice
¼ oz honey syrup
small splash of tonic
lemon swath studded with cloves, for garnish 
Brew Spirit Tea Silver Needle (185°F, 4 minutes). Meanwhile, combine KOVAL Dry Gin, strained lemon juice, and honey syrup in heatproof mug. Pour tea over these ingredients and stir. Top with a tiny splash of tonic (we're just trying to get the quinine flavor, not bubbles). Garnish with a clove-studded lemon swath.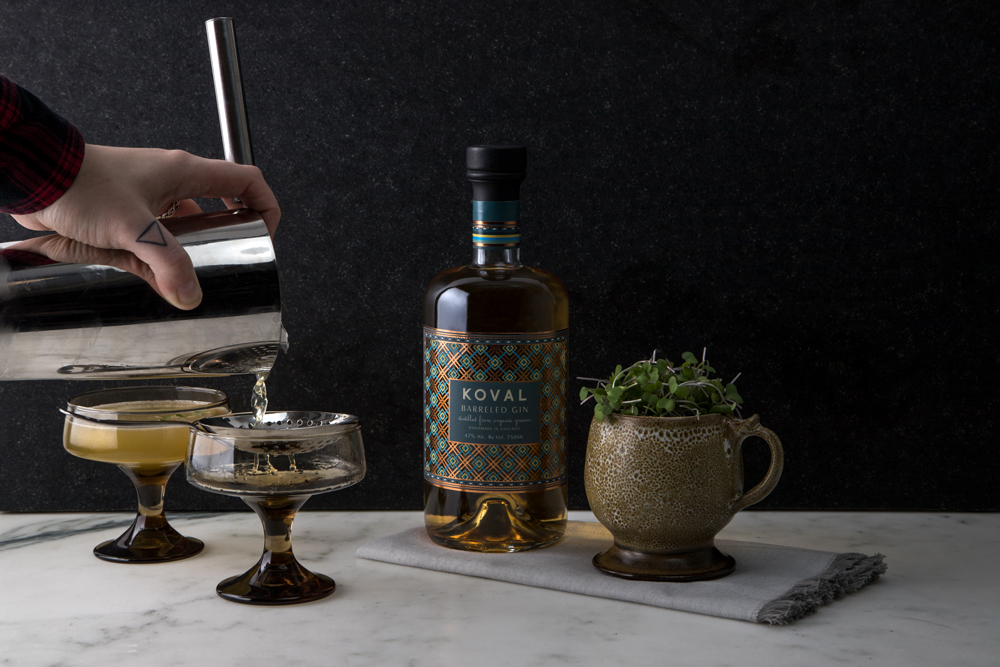 Mercy & Vengeance
As an unusual and unique tea, Spirit Tea's Iron Goddess of Mercy found its match in KOVAL Barreled Gin. Mercy & Vengeance is the most complicated cocktail of our collaborative creations with Spirit Tea, but its unique sweet and savory character is well worth the effort.)
½ oz absinthe
2 oz Spirit Tea Iron Goddess, cold brewed (method below)
1 ½ oz KOVAL Barreled Gin
¼ oz simple syrup
½ oz orange juice 
Pour absinthe into coupe or rocks glass and swirl, leaving it to sit for the duration of preparation. Add Spirit Tea Iron Goddess cold brew, KOVAL Barreled Gin, simple syrup and orange juice to shaker and shake vigorously with ice. Dump absinthe, and double strain shaker's contents into glass (up or over ice in a Collins glass). Garnish with micro greens. A surprisingly refreshing cocktail that promises a complex character.
 Iron Goddess Cold Brew:
Use 30g tea per liter of cold, filtered water (or 15g per 2.1 liters, which is roughly equivalent to 2 cups). Leave refrigerated for at least 12 hours – we got a beautifully fragrant version by brewing for 24 hours.
Thanks to our partners for this collaboration: